Right from its incorporation in 1997, Palakkad Top In Town maintained its position at the topmost level amongst top wedding planners in Palakkad. Each of the wedding function requires different class of infrastructure. From the engagement function to the post wedding reception, each of the event requires suitable venue. The event organizing and event management and dining requirement for each of these functions requires to comply with different set of conditions. That is where you can find the availability of right options at the top in town. The top in town is the most right wedding event planner in Palakkad.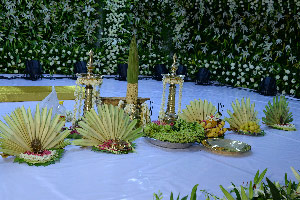 The Top In Town relevance as major wedding planners in Palakkad Kerala
Being the top Wedding planners in Palakkad Kerala, the first and foremost requirement is making the availability of the right venue for the wedding function to be performed. At the Top In Town you can find halls like the Surya Resmi, Sheethal, Sheethal Mini, Garden view hall, moonlight and two different open-air lawn to select from. The Top In Town has a very vast setup for providing catering arrangements of the wedding event. Apart from accepting the custom catering requirements, there is a wide range of catering packages to select from. The Catering menu comprises of different delicious wedding meal packages, vegetarian food packages, Non-vegetarian food packages, breakfasts, snacks, drinks and even the sweet package. According to the budget and requirements, there are more than five meals packages which are served ideally in banana leaves in south Indian style. Each of these meal packages includes delicious Kerala and south Indian recipes which are made by expert hands. There are approximately 60 to 70 varieties vegetarian food packages to opt from. Apart from these more than 25 delicious non-vegetarian food packages are there in the catering menu. The break-fast, welcome drinks, snacks and drinks section has scores of items in each, which can be combined together according to the choices. The sweets and rotti section too have scores of items to choose from.
Apart from selecting the most right wedding venue and the right wedding catering combination you may avail of our event management services which is guided throughout by experts in the field.